Search for something new

Dealing with the history of organ construction, you will inevitably come across the name of Aristide Cavaillé-Coll. Born in 1811, he was a true master of his trade, and all his life he was striving to question and verify and, where necessary, improve the traditional organ-building methods while also incorporating the new technologies of his days. Cavaillé-Coll created a sound pattern which became exemplary for the entire romantic era of contemporary composers like César Franck, Charles-Marie Widor and later on Vierne. Many of his inventions are just naturally incorpolrated in modern-day organ construction.
Today's organ manufacturers must adopt this life maxim of Cavaillé-Coll to combine old traditions with innovation to further a healthy advancement of the trade. Progress, however, must not step backwards, but rather serve the perfection of the organ as an instrument, presenting a continued challenge to musicians and composers and constantly enhancing the quality of the trade itself.
From the initial concept to the finished instrument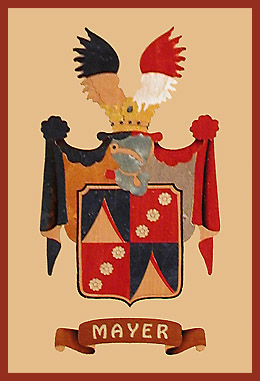 At "Mayer Organs", we rely on proven traditions. A Mayer organ usually has a self-supporting solid wooden frame allowing for a very sturdy construction with the mechanical loop windchests resting on statically calculated wooden bearings. The modern materials we use really make our organs last, especially since fluctuations in the humidity caused by the natural climate or the heating system in the building will not affect their windchests. The drilled-hole pattern in the windchests, platform cross-sections and also the sound valves are precisely computer-calculated to guarantee an optimum wind supply of the pipes. Our mechanical tracts feature accompanying abstracts to balance the wooden abstracts' work in case of changes in the humidity, and ultimately guarantee for high-precision sound. Another feature is the keys' sound touch-off point which may be adjusted according to your individual taste and requirements. Precise mechanical framing, high sound quality and harmonious architecture require a thoroughly innovative design of the instrument. In today's organ construction, numerous means help us to accomplish these high goals. We base the design and construction of our organs on CAD (computer-aided design) technology. For once, this allows for an accurate and detailed construction, then again we can elaborate vivid concepts according to our customers' ideas to help them decide on the most suitable solution. Owing to the high-quality materials we use and the windchest techniques we employ, the organs we build today will have a lifespan of various centuries. This, of course, implies a high responsibility for us, the organ manufacturer, for the instruments we create today are to musically enrich and inspire the lives of generations to come. Finally, we would like to extend a warm welcome to you whenever you visit our workshop in Heusweiler to get your own personal impression of our work.