Hugo Mayer
Hugo Mayer was born on Jan. 21, 1912 in Wengen/Allgaeu, the sixth child to a family of craftsmen. rom 1927 to 1930, he completed his apprenticeship at an organ-building workshop. From 1930 to 1940, he made the most different experiences in his trade throughout Europe as a journeyman. After the war in 1948, when the Russians had released him from captivity, Hugo Mayer returned to his beloved profession and got his master craftsman's diploma. In that same year, he became the manager of the largest organ-building company in Germany at the time. In 1952, Hugo Mayer founded his own workshop in Brebach (close to Saarbruecken). His new company with a staff of about 20 people mainly built organs with electrical tracts and register platform chests. In 1957, the workshop moved to a larger site in Heusweiler (still the Saarbruecken area) which has been the business' location to the present day. The system of register platform chests was replaced with slider chests and predominantly mechanical tracts. Training young qualified people of the local area was a high company priority. Mayer's organ-building workshop has experienced steady progress ever since and is renowned both at home and abroad.
Gerd Mayer
In 1957, Gerd Mayer entered his father's shop as an apprentice. As an organ builder, he worked in various countries, including France and the United States, and in 1966 he was the youngest German organ master craftsman ever to get his diploma at the Stuttgart Trade Corporation. His particular interest was studying organ architecture and the technology of historical organs. In 1974, Gerd Mayer succeeded his father Hugo as the business' General Manager. His main ambition since then has been to synthesize Saarland organ tradition with modern production techniques and to continue and enhance "Mayer Organ" reputation. Due to his vast experience in the restoration of organs, especially pneumatic and mechanical instruments, the organ-building master Gerd Mayer was honoured with the title "restorer in organ building" by the Stuttgart trade corporation in May 2001.

Sigrid Mayer

After graduating college-preparation school Sigrid Mayer (maiden: Dawo) completed an apprenticeship as an office administrator. With her marriage to Gerd Mayer in 1966 she joined the family business. For decades she led the commercial department. Her areas of responsibility were the payroll and financial accounting, human resources, and field representative coordination. Her creed has always been: be available with all her strength and knowledge wherever she is needed. She has earned the great respect of clients as well as all co-workers this way. Sigrid Mayer was shareholder in the company from 1973 up until 2008 when she retired and left the company.
 

Stephan Mayer
After college and the military service, Stephan Mayer began his basic training in the organ-building trade at a renowned organ workshop in Southern Germany in 1989. He then completed training as a CAD specialist with the intention of introducing this technology into organ building. In 1992, Stephan Mayer joined the family business, now in its third generation. He dealt with the assembly, restoration, maintenance and intonation to gain experience in these specialized areas. He then changed into the construction and design area and introduced CAD technology into the company. In 1996 Stephan Mayer graduated as a master organ builder, again at the Chamber of Trade and Commerce in Stuttgart, and went on to lead the new construction area in the family company. Since 2009 he has been the sole proprietor; taking over company leadership from his father Gerd.
Worldwide

After half a century, "Hugo Mayer Organ Construction" with its workshop in Heusweiler has firmly re-established this traditional craft in the Saarland area.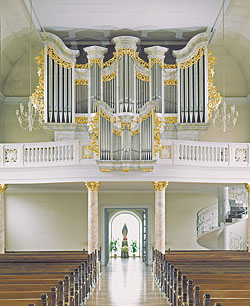 Already in its third generation, here in Heusweiler we design and build instruments to a very high quality standard. In today's "Mayer Organs", you can recognise all the influences of the neighbouring areas of Rhineland, Palatinum, Wuerttemberg and Baden as well as France, our neighbour in the West, with its historic areas of Alsace and Lorraine. Every instrument we manufacture is an individual and unique master piece for the room it is designed for. With every new organ, the architecture of the building, the available space and the acoustics are big challenges for the manufacturer. While in the 18th century, an organ's proportions followed a clear-cut regularity, the pluralism of contemporary organs makes it hard for the manufacturer to design organ frames in accordance with the aestethic principles of the trade; many times we find ourselves at the limits set by the architecture of modern church buildings, which is very often ruled by technically reasonable principles.
Here, we have to show profile and be imaginative. This is what makes our trade - far from simply bits and bytes - so excitingly interesting.


Besides the design and manufacture of new organs, the maintenance and restoration of historical organs play an important role in our business. A separate department with experienced craftsmen and technicians continues and secures the old traditions. Extensive restoration jobs are documented in all detail, preserving them for generations to come. Hugo Mayer Pipe Organ Building occupies 25 employees. The company with family tradition is well-known beyond the German borders. Mayer-Pipe Organs from Heusweiler sound in France, Luxemburg, Belgium, Italy, Spain, Norway, Sweden, USA, Israel, Croatia, Mexico, South-Korea, Russia and Kazakhstan.